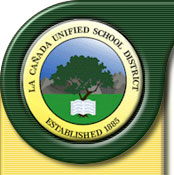 School Board

Governing Board

The Governing Board is elected by the community to provide leadership and citizen oversight of the district's schools.
Board Policies and Administrative Regulations

To access La Caņada Unified's Board Policies and Administrative Regulations online, go to Gamut Online. The user name is public and the password is lcusd.
2003-2004 Board Meeting Schedule and Resources

Meetings will be held at 7:00 p.m. at Foothills School (4490 Cornishon Ave.) in Room 41 starting in May, 2004 unless otherwise posted. Please check below for specific dates. You will need Acrobat Reader (it's free) to view the agenda and minutes, the actions are in html format.
Meetings
Resources
August 6, 2003
Agenda
Minutes
August 26, 2003
Agenda
Minutes
September 9, 2003
Agenda
Minutes
September 30, 2003
Agenda
Minutes
October 21, 2003
Agenda
Minutes
November 18, 2003
Agenda
Minutes

December 2, 2003 Organizational Meeting

Agenda
Minutes
December 9, 2003
Agenda
Minutes
January 13, 2004
Agenda
Minutes
February 10, 2004
Agenda
Minutes

March 4, 2004 Special Meeting

Agenda
Minutes
March 9, 2004
Agenda
Minutes
March 16, 2004 Special Meeting
Agenda
Minutes
March 30, 2004
Agenda
Minutes
April 13, 2004
Agenda
Minutes
April 27, 2004
Agenda
Minutes
May 11, 2004 Special Meeting
Agenda
Minutes
May 17, 2004
Minutes
May 18, 2004
Agenda
Minutes
June 1, 2004 Special Meeting
Agenda
Minutes
June 3, 2004 Special Meeting (District Office)
Agenda
June 8, 2004
Agenda
Minutes
June 15, 2004 Special Meeting (District Office)
Agenda
Minutes
June 17, 2004 Special meeting (HS room 211)
Agenda
Minutes
June 22, 2004 Special Meeting (Cornishon)
Agenda
June 29, 2004
Agenda
July 20, 2004
Agenda
August 10, 2004
Agenda
August 31, 2004
Agenda
Prior Board Meeting Agendas and Minutes:
Board Policies of Interest:


News & Info | Calendars | Schools | School Board | District Office | Technology
Facilities | Support Groups | Resources | Search | Home | Back a Page